MoS Ajay Kumar Mishra interacts with civil, army officers at Kargil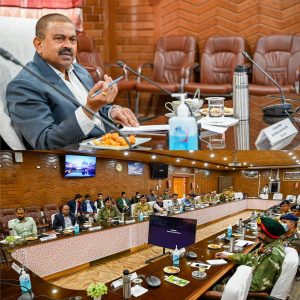 KARGIL, JUNE 20, 2022: The Union Minister of State for Home Affair, Ajay Kumar Mishra who is on a three-day visit to Kargil, interacted today with the officers of Kargil Administration and Indian Army at Conference Hall, Baroo.
Deputy Commissioner and CEO, LAHDC, Kargil Santosh Sukhadeve, Brigdair 121 (I) GP Kargil Yughvir Singh, Senior Superintendent of Police, Kargil Anayat Ali Choudhary, Chief Engineer Project Vijayak, Col. Kapil Taneja, SE PWD Kargil Er. Nissar Ahmad Bagh, ACR Kargil AG Zargar, Commandant ITBP Justin Robert, Dy SP Traffic Police Mohammad Rafiq Giri, and other officers attended the meeting. All the officers briefed the MoS Ajay Kumar Mishra about the functioning of their respective departments and appraised about the developmental activities at Kargil.
Speaking on the occasion, the MoS said the Prime Minister-led government is aimed to ensure all-round development of both Leh and Kargil districts for which the erstwhile state was bifurcated into two Union Territories. He further said that the government is committed to provide basic amenities for it's citizens.
He said the formation of UT was a long pending demand which was fulfilled by the Government led by the Honourable Prime Minister Narendra Modi.
He also congratulated the officers and officials for their tireless efforts and contribution for the new dawn of development in the district.
The MoS further assured to take necessary action to address the issues of Ladakh Police and Traffic Police Ladakh which includes sanctioning of new Police Station in Kargil and recruitment of manpower in the departments.
On the occasion, DC Santosh said after the formation of UT, the Administration is focused on development of infrastructure in the district.
He remarked that the roads, infrastructure and other developmental works are going on smoothly to ensure ease of living and holistic development for the locals.
Brigadier GP Kargil briefed about the functioning of different wings of the army on border and other posts in the district. He further appraised that International Yoga Day, 2022 will be held at more than 250 posts of the army in Ladakh.
CE Project Vijayak appraised the MoS about the road projects being executed by the BRO in the district especially the functioning of the Zojila pass which was reopened in a record time for first time in 72 days period this year.
The SSP Anayat Ali appraised that Kargil is a peaceful and crime-free district where less than 10 crime cases are reported in a year that too because of outsiders.
The SSP further appraised the MoS about issues of the Ladakh Police that need immediate attention.