MIMC Leh donates 21 oxygen concentrators to UT Ladakh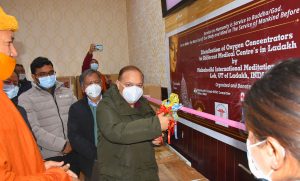 Leh, Dec 03: Mahabodhi International Meditation Centre (MIMC), Leh, led by Bhikkhu Sangasena, donated 21 oxygen concentrators to the Health Department of UT Ladakh in the presence of Principal Secretary, UT Ladakh, Dr Pawan Kotwal and Deputy Commissioner, Leh, Shrikant Suse. The UT Administration would distribute these oxygen concentrators to the different medical centres in Leh district.
Bhikkhu Sangasena highlighted various Covid-19 relief initiatives taken by the MIMC to overcome the challenges of the Covid pandemic and other humanitarian efforts undertaken by them. He also informed Dr Kotwal and other dignitaries about the upcoming orthopaedic camp to be held in Leh next year.
Principal Secretary Dr Pawan Kotwal thanked MIMC and Bhikku Sangasena for their help in curbing the Covid-19 pandemic in Leh. He added that the oxygen concentrators would help in the treatment of the Covid-19 patients and other patients with lung complications. He directed the concerned officers of the Health Department to distribute the concentrators to the required centres at the earliest.
Principal Secretary Dr Kotwal appreciated the collaborative efforts of the Mahabodhi and UT Administration. He assured that the UT Administration would provide necessary machinery and equipment to develop Mahabodhi Hospital and Heart Foundation as well-equipped alternative centres of treatment in Leh.
Speaking on the upcoming MIMC camp for orthopaedics, Dr Kowtal directed the Director of Health, UT Ladakh, to update the list of people needing orthopaedic intervention.
Assistant Deputy Commissioner, Leh; Chief Medical Kumar, Leh and representatives from Mahabodhi International Meditation Centre, Leh were present during the event.