Menstrual hygiene week celebrations held at Barsoo, Taisuru, Sodh, Drass, Karsha, Zanskar blocks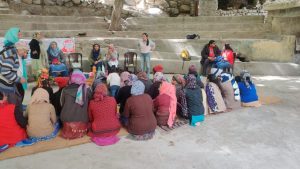 KARGIL, MAY 24, 2022: The Rural Development and Panchayat Raj Department (RD&PRD) in collaboration with Shoqpa Foundation today organized menstrual hygiene week celebrations at Barsoo, Taisuru, Sodh and Drass blocks in Kargil district.
From Monday volunteers from Shoqpa Foundation are visiting panchayats to sensitize women and adolescents about the importance of Menstrual Hygiene Day, menstrual health and hygiene management.
On the second consecutive day, menstrual health and hygienic week was celebrated at Barsoo and Karchay Khar in Barsoo block, Parakachik and Taisuru in Taisuru block, Yourbaltak and Grakhone in Sodh block, Mushkoo and Pandrass in Drass block.
Menstrual health and hygienic week was organized by Shoqpa Foundation at Yourbaltak A and B under the chairmanship of Zahra Batool, Sarpanch Akchamal. CHO Health Department, resources persons from RD&PRD, volunteers from NRLM, and women of Yourbaltak A and B also attend the program aimed to brief women on menstrual health and hygienic.
Menstrual health and hygienic camp was conducted in Barsoo in presence of chairperson Block Development Council, Sarpanch and BDO Barsoo. Maximum number of women of Barsoo participated in the program.
Menstrual health and hygiene week was also celebrated at Pankachik with maximum participation.
Hygienic was camp conducted at Kharchay Khar in Block Barsoo in the presence of chairperson Block Development Council, elected representatives besides women.
The event was also held at Parkachik in Taisuru block under the chairmanship of Chairperson Block Development Council Taisuru Amina Banoo.
Women PRI Members, representatives of health, Anganwadi workers, ASHAs and womenfolk of Parkachik Panchayat Halqa and others attended the program.
The menstrual health and hygienic week was also celebrated at Garkone panchayat under the chairmanship of Sarpanch, Panches of Garkone.
All women from Garkhone panchayat were present in the awareness camp. The y program ended with vote of thanks by panch of Garkone.
A similar program was also held at Zanskar and Tungry Karsha block.
Menstrual Hygiene Day is an annual awareness day observed on May 28 to highlight the importance of good menstrual hygiene management at a global level.
The week-long programs ahead of the MGD are being organized to educate and aware women about sustainable menstruation and how is it important to take care of their health before anything else so that they can excel in whatever field they are.