Member NCM Rinchen Lhamo convenes virtual meeting on welfare schemes for minorities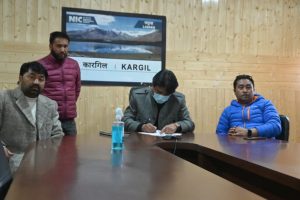 KARGIL, MARCH 15, 2022: Member, National Commission for Minorities (NCM), Rinchen Lhamo today convened a virtual meeting to provide detailed information on various schemes for the welfare of minorities under the NCM.
The meeting was joined by Joint Secretary, NCM A. Dhanalakshmi, member NCM Rinchen Lhamo, Chairman and Chief Executive Councillor, Leh, Tashi Gyalson, Executive Councillor, LAHDC, Kargil Aga Syed Hassan Armaan, concerned district officers, representatives of religious organizations, student representatives etc.
The Joint Secretary A. Dhanalakshmi gave a detailed presentation regarding awareness of various state/UTs /centrally sponsored schemes for the social, educational and economical upliftment of minorities.
She appraised about helpline, social media platforms, public hearing initiatives, website, and Complaint Management System (CMS) dedicated to redressing issues of minority communities.
Dhanalakshmi informed about the status of minority communities in the education sector and also appraised various scholarship schemes and financial assistance for minority students.
She informed the online audience about various schemes like Pradhan Mantri Jan Vikas Karyakaram, Nai Manzil, Seekho aur Kamao, Nai Roshni, Naya Savera, Nai Udaan, Jiyo Parsi, NMDFC etc.
She also appraised the functioning of various organizations for the welfare of minority communities like Molana Azad Educational Foundation, Hajj Management, Waqf Boards, etc.
In the end, Member, NCM, Rinchen Lhamo thanked the Joint Secretary, public representatives and district officers for joining the session.