Member NCM chairs meeting in Kargil, calls for execution of minority welfare schemes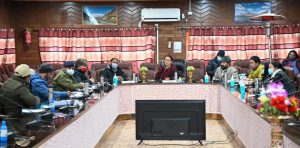 KARGIL, JANUARY 08, 2022: On the first day of her maiden visit to Kargil, Member of National Commission for Minorities (NCM), Government of India, Rinchen Lhamo today chaired a meeting to review welfare schemes for minorities in the district at Conference Hall here.
Executive Councilor Works, Aga Syed Abbas Razvi, Executive Health Mohsin Ali, Deputy Commissioner and CEO LAHDC Kargil, Santosh Sukhadeve, Additional Deputy Commissioner (ADC) Kargil Tsering Motup, Chief Planning Officer (CPO) Abdul Hadi, District Social Welfare Officer, Aga Syed Jamal, Liason Officer/Child Development Project Officer (CDPO) Taisuru Parveen Akhter, Dy SP Headquarter Muhammad Aslam besides other concerned officers were present during the meeting.
After felicitation by LAHDC Kargil, EC Syed Abbas Razvi congratulated the Member NCM for joining the chair and briefed about works and welfare schemes for minorities executed in Kargil such as minority scholarship, minority schemes, women empowerment schemes, skill development and others and also apprised certain issues related to the schemes.
Regarding the implementation of schemes under minority welfare, Rinchen Lhamo said that all blocks should get equal benefits under the schemes and more stress should be given on welfare schemes for women.
About skill development schemes, the meeting was informed that the share of Kargil district should be increased. Further under new schemes, 219 crores have been approved and 5 blocks have been identified within the district.
The Member NCM was also informed about the status of works under Pre-Matric and Post Matric scholarship schemes and was suggested that quota for Pre-Matric Scholarship should be increased for the year 2021-22.
On the occasion, Rinchen Lhamo said that since Ladakh is a full minority Union Territory, therefore all minority related welfare schemes should be implemented on the ground and the purpose of the visit is to assess the ground situation.
She expressed hope that LAHDC Kargil and district administration will take maximum efforts in implementation of the schemes.
Rinchen Lhamo also took an assessment of various national schemes executed under DSW Kargil for the widows, disabled besides other pension schemes.