Mega cleanliness drive held in Turtuk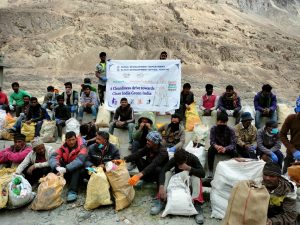 Leh, May 22: A mega cleanliness drive was conducted by the Rural Development Department in collaboration with Revenue, Medical Departments and the local Panchayati Raj Institutions (PRIs) in and around the villages of Turtuk, Youl and Farol.
The market area, main road, all government offices and the sides of the Shyok river were cleaned during the cleanliness drive, where dumps of garbage were observed. Both residents and outside labourers participated in the cleanliness drive.
On the occasion, the labourers were briefed about keeping the surroundings clean and green. They were urged to take accommodation with a toilet facility and avoid open defecation. Also, the labourers were advised to shun the bad habits of alcohol and drugs, etc.
The cleanliness drive organisers included Block Development Officer, Turtuk, S Gurjeet Singh; Naib Tehsildar, Turtuk, Ali Moosa; Medical Officer, Dr Abdul Rouf; Sarpanch, Panchayat Halqa, Youl, Anayatullah; Naib Sarpanch, Panchayat Halqa, Turtuk, Rehmatullah and the panches of the said villages.