Meets LAHDCs, UT Administration, ITBP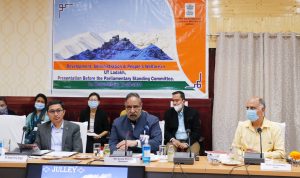 Leh, Aug 20: The Departmental- related Parliamentary Standing Committee (PSC) on Home Affairs visited UT Ladakh on August 17 headed by Chairman, Anand Sharma, Member of Parliament, Rajya Sabha. The PSC held meetings with Ladakh Autonomous Hill Development Councils (LAHDCs) of both the districts of Leh and Kargil, officers of UT Administration and officers from Indo-Tibetan Border Police (ITBP).
During the meeting, Deputy Inspector General (DIG), North-West Frontier, ITBP, Sandeep Khosla briefed the PSC members on the overall mandate of the force, command structure, major milestones and operational deployments, including border management, border infrastructure and disaster management.
Further, the PSC on Home Affairs held a meeting with the senior officers of the UT Ladakh Administration regarding Development, Administration and People's Welfare in UT Ladakh. Ravinder Kumar, Coordinator from UT Administration gave a presentation before the PSC members. He highlighted the major achievements, major developmental projects, developmental approach taken by the UT Administration for the development of nascent UT Ladakh. The meeting also deliberated on carbon neutral Ladakh, governance and development, people's welfare initiatives, issues pending with J&K and major evelopmental issues.
Additionally, the PSC on Home Affairs also held a meeting with the representatives of both LAHDC Leh and Kargil. Chairman/Chief Executive Councillor (CEC), LAHDC Leh, Adv Tashi Gyalson, gave a presentation on various issues related to Ladakh, such as constitutional safeguard for Ladakh, amendment of LAHDC Act and Panchayati Raj Act, creation of Public Service Commission, creation of separate Ladakh Administrative, Accounts, Police and Forest Services, denotification of Wildlife sanctuaries, National parks and other issues.
Later, the PSC members visited the 16th Battalion, ITBP camp Leh and interacted with the ITBP personnel.