Meeting regarding model citizen charter of Gram Panchayat held at Drass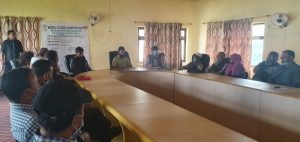 KARGIL, AUGUST 14, 2021: A meeting regarding model citizen charter for Gram Panchayat was conducted under the chairmanship of BDC and BDO Drass at Conference Hall Drass here on Friday.
Officials from different departments, Panchayat Secretaries, Sarpanchs and Panchs attended the meeting..
During the course of the meeting, BDO Drass while addressing the gathering first explained the meaning of the Model Citizen Charter and said that it is a tool to achieve good governance and its basic objective is to empower the citizens in relation to public services and improve service quality.
The BDO also briefed about various schemes and policies concerned with the RDD department and also asked the officials of different department to brief about their respective departmental schemes.
BDC Drass also addressed the gathering and stressed that all officials of different department should ensure quality of works, time bound service delivery, grievances redressal and service mechanism transparency and accountability.
During the meeting, the front line workers of different departments briefed about their respective schemes, policies and programs.