Meeting on preparation of Village Development Plan under SAGY held in Leh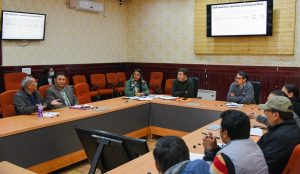 Leh, April 21: A meeting regarding the preparation of the Village Development Plan (VDP) under the Saansad Gram Adarsh Yojana (SAGY) was held today at the DC Conference Hall under the guidance of the Project Manager, SAGY, Uma Moorthy.
The objective of Saansad Gram Adarsh Yojana is the holistic development of model villages, called Adarsh Grams through the implementation of existing schemes.
It was informed that Member of Parliament, Ladakh, Jamyang Tsering Namgyal had selected the gram panchayats of Durbuk, Shachukul and Tangtse from Leh district to be developed as Adarsh Grams under SAGY.
Programme Manager, SAGY, Uma Moorthy spoke at length about the various processes involved in the successful transformation of a gram panchayat into a model village under SAGY. She stressed that after the identification of a gram panchayat, the baseline survey involving local functionaries, academic institutions and trained experts and the preparation of the Village Development Plan are important components in SAGY implementation.
Uma Moorthy added that the status of SAGY implementation should be timely updated on the dedicated portal of SAGY.
The meeting was attended by the Chief Planning Officer, Leh; Assistant Commissioner Development, Leh and the HoDs and representatives of all the different departments in the district.