Meeting on containment of Covid-19 held at Shakar Chiktan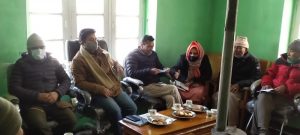 KARGIL, JANUARY 12, 2022: A meeting regarding containment of Covid-19 cases and measures to be adopted was today held at Shakar Chiktan under the chairmanship of Sub Divisional Magistrate Shakar Chiktan, Muhammad Sharif.
All the duty Magistrates along with Tehsildar, BMO, Naib Tehsildar, in-charge police posts Shakar Chiktan and Khangral besides magistrates of screening point Khangral and Sanjak were also present.
The meeting was held following a surge in Covid-19 cases and in view of the opening of tuition centers in the Sub Division.
All the duty magistrates were instructed to strictly monitor the schools and ensure availability of all necessary arrangements and ensure Covid-19 guidelines are followed by teachers and students.
The concerned BMO was directed to sanitize the classrooms weekly and ZEO was asked to arrange sanitizers and masks for students. The participants were strictly instructed to actively use the Whatsapp group created for this purpose.
Regarding social gatherings, it was stressed upon Magistrates to spread awareness among masses and advice them to avoid social gatherings in order to help contain the spread of Covid-19.
In the meeting, it was decided that both civil officers/officials and police personnel should be deployed at the screening point and were directed to be advised to work in coordination.
The SDM also informed that a massive awareness camp regarding Covid-19 shall be started from later this week in both Shakar Chiktan and Shargole Tehsils which would be headed by him.
It was also directed that an audio track prepared for the propagation of messages regarding Covid-19 should also be shared for wide coverage.
Pertinently, a similar meeting with the Magistrates at Shargole was also held earlier on 1st January 2022 at Tehsil office Shargole.