Measures put in place to contain Goat Plague in Shakar-Chiktan Block Nearly 80 percent livestock vaccinated, disease contained, affected animals showing good response to treatment.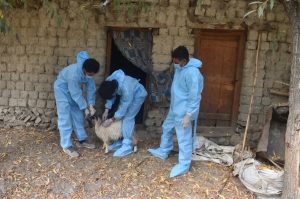 Kargil, Sep 18, 2023: An outbreak of Peste des Petits Ruminants (PPR), a highly contagious viral disease affecting small ruminants, recently struck various villages in Shakar-Chiktan Block, raising concerns among the local community and livestock owners.
PPR, commonly known as goat plague, is a viral disease that poses a severe threat to goats and sheep. The disease is caused by the PPR virus, which belongs to the family Paramyxoviridae.
It is characterized by symptoms such as fever, nasal and ocular discharge, coughing, pneumonia, mouth ulcers and diarrhea.
PPR can lead to significant production losses and high mortality rates, making its rapid containment crucial for the well-being of the region's livestock.
The transmission of the PPR occurs through direct contact with infected animals, respiratory droplets, and contaminated feed and water sources.
Dr Anwar Ali, Block Veterinary Officer Chiktan informed that the outbreak was reported from summer grazing camp in Shakar village and subsequently the disease spread to adjacent areas of Shakar.
Taking cognizance the contagious nature of the disease, a team of experts was constituted on the spot and despatched to contain the disease followed by initial finding report.
The team visited the highland pastures and collected blood, Serum and Nasal swab samples from the live animals which were then sent to Disease Investigating Laboratory, Nowshera, Srinagar, for confirmation. The results of the report confirmed PPR disease outbreak.
Taking prompt action, Director Animal/Sheep Husbandry & Fisheries timely procured PPR vaccine and consequently vaccination drive was started in Shakar Chiktan Block by Sheep Husbandry Department Kargil.
Nearly 80 percent of livestock were vaccinated in the Block. Further Public awareness was also carried out through print and electronic media. As of today, the disease has been contained and affected animals are showing good response to the treatment.