MA, DDMA Kargil, 6th Batallion Madras Regiment start disaster management training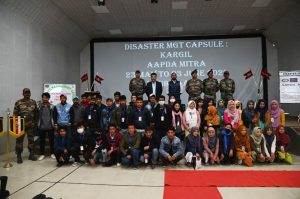 KARGIL, MAY 24, 2022: Ladakh Disaster Management Authority (LDMA) and District Disaster Management Authority (DDMA) Kargil in collaboration with 8 Mountain Division, 6th Batallion Madras Regiment today started 12 days long disaster management training for local youth in Kargil and Darchiks under Aapda Mitra scheme.
Chairman DDMA and Deputy Commissioner, Kargil Santosh Sukhadeve and Commanding Officer, Col. Kabul Tyagi attended the inaugural session of the training at Kargil. Acting ADC/Assistant Commissioner Revenue, Abdul Ghafar Zargar besides young volunteers attended the session.
Speaking on the occasion, DC Santosh said Kargil district is a disaster-prone area and local volunteers must be well trained in disaster management and humanitarian intervention. With the help of this training, the District Administration aims to train local youth in handling disaster situations and emergencies.
DC further instructed the volunteers to learn disaster management techniques in the training session and promptly act in disaster situations whenever the District Administration and the local population need their help.
While addressing the volunteers, Commanding Officer, Col. Kabul Tyagi said in any disaster situation it is locals who are in proximity and reach first for rescue operations. Thus, it is needed to train the youth in disaster management.
DC Santosh and Col. Tyagi distributed training module among the volunteers. It was further informed that at the end of the training, first aid kit, Aapda Mitra uniform including t-shirts and shoes will also be provided to the volunteers.
Similarly, the training under Aapda Mitra scheme was also held at Darchiks where Assistant Commissioner Development Ghulam Muhammad inaugurated the training session.
While speaking on the occasion, the ACD urged trainees and participating youth to take maximum benefit of such training programs.
The ACD spoke about different aspects of disaster management in Kargil and the training will help to tackle any kind of disaster-like situation.