Lt. Governor Mathur visits Kargil-Ladakh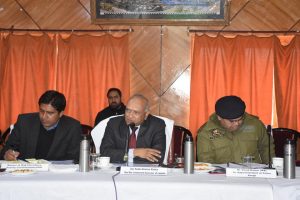 KARGIL: The Lieutenant Governor, Union Territory of Ladakh Sh. Radha Krishna Mathur during his first visit to Kargil met Council Members of LAHDC, Kargil here on Monday.
The meeting with the representatives of LAHDC, Kargil was attended by Chairman and Chief Executive Councilor, LAHDC, Kargil Feroz Ahmad Khan, Executive Councilor for Social Welfare Aga Syed Mujtaba Mosavi, Executive Councilor for Tourism Er Phunsog Tashi, Executive Councilor for Works Aga Syed Abbass Razvi, Executive Councilor for Health Muhammad Ali Chandan, Deputy Commissioner and CEO, LAHDC, Kargil Baseer ul Haq Choudhary (IAS), Superintendent of Police Kargil Dr Vinod Kumar(IPS) and Councilors.
The Lt. Governor also held a meeting with the district officers and met the Joint Action Committee (JAC) Kargil, various political, religious leaders, social groups and various associations etc.
The Lt. Governor said that the entire nation admires and value the patriotism and communal harmony of the people of Kargil and the sacrifices they have made for the nation. He said that the Government wants Kargil to prosper along with the rest of the nation and become a partner in the country's economic progress. The recent decisions of the Government were meant to speed up their progress. He stated that the fund flow for development shall increase.
The Lt. Governor stated that the operation of commercial aircrafts, AN 32 Courier Service, MI-17 and other Helicopter services, opening up of Zojila pass till late winter etc shall be accorded top priority.
The Lt. Governor also announced an exposure visit for the Executive Council members of both LAHDCs in near future. He also assured members of the LAHDC Kargil that funds for completion of the Council Secretariat infrastructure would also be released in due course of time.
The Lt. Governor stated that for efficient administration Raj Bhawan, UT Secretariat, Police establishment and residences etc. shall be located in Kargil also. Various administrative issues for efficient functioning shall also be addressed.