LG chairs the first Developmental Conclave to chalk out developmental plans for Ladakh in consultation with elected representatives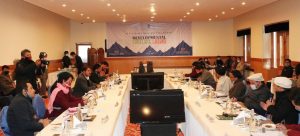 The first Development Concave chaired by the Lieutenant Governor, R K Mathur was held at Leh. Organised by the Administration of UT Ladakh, the aim of the Developmental Conclave is to chalk out a long-term developmental plan for Ladakh with a holistic approach focusing on all sectors and departments in consultation with the stakeholders.
Member of Parliament, Ladakh, Jamyang Tsering Namgyal; Chairman, Ladakh Autonomous Hill Development Council (LAHDC) Kargil, Feroz Ahmad Khan; Chairman, LAHDC, Leh, Tashi Gyalson along with the Executive Councillors from Kargil and Leh represented the elected representatives. Advisor to Lieutenant Governor, Umang Narula and the Administrative Secretaries, HoDs of various departments, and Deputy Commissioner (DC) Leh and Kargil participated in the conclave.
Lieutenant Governor, R K Mathur set the agenda in his opening remarks stating that the objective of the conclave is to have a common deliberation platform for the political executives and bureaucrats to work for the development of Ladakh. He also added that the idea is to collate new ideas and improve the execution of existing projects.
The Administrative Secretaries presented the vision, mission and the draft action plan for the next five years for each department along with the tentative outlay of budget needed to achieve the same. The elected representatives gave their detailed inputs on each sector and also flagged issues and gave ideas for new projects.
While the education department presented its action plan aimed at holistic development of all children of 3 to 18 years with 100 percent literacy rate, Higher & Technical Education presented the vision to sustainably transform Ladakh into an equitable and vibrant knowledge society, by providing high-quality education to all and mission is to enhance access to quality higher education, ensuring equity and increase gross enrolment ratio (GER) and to improve the employability of graduating students.
Sports Department presented its aim towards construction of sports infrastructure at all the levels. Department of Social Welfare shared the vision to build a caring community with self-reliance, dignity, harmony and happiness with focus on achieving major Sustainable Development Goals (SDG).
The Labour Department aims to ensure security and well being of the labourers of organised and unorganised sectors. Effective and transparent distribution of food grains, establishment of food testing laboratories, ensuring round the year reliable and safe connectivity focusing on carbon neutral technologies and promotion of eco-friendly transport, were the focus of Department of Civil supplies and Civil Aviation department respectively.
Department of Industries presented its action plan with focus on building local capacity, managerial capacity with policy intervention and organizing skill building initiatives with special focus products such as pashmina, apricots and
seabuckthorn with improved institutional support.
Tourism Department shared its vision of focus on quality tourism while taking care of sustainable and eco-tourism besides focus on promotion of agro-tourism along with conservation and reconstruction of cultural heritage of Ladakh.
Speaking on the urban, water and waste management sector, Commissioner Secretary shared the vision to create economically vibrant efficient, eco friendly and sustainable urban habitat by finding holistic and integrated solutions.
The Department of Information and Technology aims to provide telecommunication services to the remotest areas and develop command and control centres at UT and district level. Agriculture Department shared its action plan to increase the land under agriculture by 5% till 2026, improve food security and achieve 50 % self-sufficiency in vegetables by adopting modern techniques.
Health Department, as per the action plan, aims to provide access to world-class, equitable, affordable and quality health care service to every citizen of Ladakh. Department of Environment and Forest aims to achieve a carbon-neutral Ladakh and Power Development Department (PDD), shared Vision 2050 under which the aim is to provide reliable and uninterrupted 24×7 clean power supply to all inhabitants by harnessing renewable energy power potential of Ladakh and implementation of Smart Grid system and Smart Metering
MP Ladakh, Jamyang Tsering Namgyal, while speaking on the occasion, stressed the need to focus on the practical viability of plans with the aim of inclusive growth for Ladakh. Similarly, the CECs and the ECs of the Hill Councils of Leh and Kargil districts also shared their ideas and concerns regarding action plans by departments.
Chairman, LAHDC Leh, Advocate Tashi Gyalson said the objective is to serve the people and to make Ladakh a unique Union Territory and a role model for other Union Territories of the country. Chairman, LAHDC Kargil, Feroz Ahmad Khan, thanked the LG for organising the Development Conclave and said that sharing of action plans will help avoid duplication of work.
In his closing remarks, LG Mathur stressed that the UT Administration, Hill Councils and the Panchayati Raj Institution should work together to ensure progress of Ladakh. He said Ladakh has the potential to become one of the richest Union Territories in the country in terms of per capita income. Speaking highly of young boys and girls from Ladakh, LG Mathur said that it is critical to involve the youth in the economic development of Ladakh by engaging them in various developmental initiatives as entrepreneurs in addition to opportunities in government jobs.He directed the Administrative Secretaries to firm up the action plans and seek necessary approvals ahead of the next financial year so that the implementation can start from the 1st April of this year.
The deliberations of the Conclave shall be taken up to expand and fine-tune the Action Plans by the departments.