Leh to host the 11th edition of SMDS this year CEC convenes preliminary meeting with officials of IMI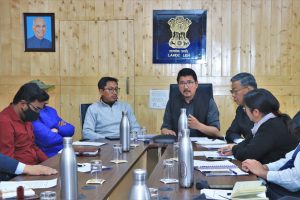 Leh, May 17: The Chairman/CEC, LAHDC Leh, Advocate Tashi Gyalson convened a meeting today at his office to discuss plans for the Mountain Legislator's Meet (MLM) at the 11th Sustainable Mountain Development Summit (SMDS) to be hosted in Leh, Ladakh this year.
In his opening remarks, CEC Tashi Gyalson highlighted the need to consider environmental concerns in decision making given growing pressures from tourism and the fragility of the ecosystem in Ladakh. He further highlighted the problem of legacy waste that still needs to be dealt with in Ladakh.
MP Ladakh, Jamyang Tsering Namgyal also highlighted the implications and concerns of climate change including receding glaciers, drying streams, increasing frequency of natural disasters, changes in weather patterns and higher intensity of rainfalls in the region. He further assured his assistance in continuously advocating for the need for preserving the fragile environment in the mountain states of the country.
President, Integrated Mountain Initiative, PD Rai expressed his gratitude to the Chairman, LAHDC Leh for having a first-hand view of SMDS at Darjeeling last year and further accepting the baton at the closing session to host the next edition of the SMDS in Leh, Ladakh this year. He further highlighted the importance of having such seminars in the newly formed mountain Union Territory.
The meeting concluded with the remarks and feedback from the Councillors of LAHDC Leh and other officials present during the meeting.
The MLM is organised under the aegis of the Integrated Mountain Initiative annually, where legislators from across the mountain states deliberate on pressing issues concerning mountain states cumulatively. This year the MLM would be hosted in Leh, Ladakh.
The meeting was attended by EC Minority Affairs, LAHDC Leh, Ghulam Mehdi, DC/CEO LAHDC Leh, Director Tourism, ADC Leh, Councillor Lamayuru, Councillor Saspol, Councillor Skurbuchan, CPO Leh, former CEC LAHDC Leh, Rigzin Spalbar, reps from University of Ladakh, Wildlife Department, and officials of IMI led by it's President, PD Rai.