Leh observes National Panchayati Day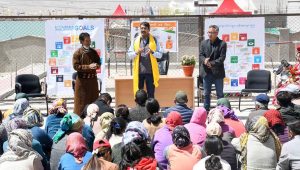 Leh, April 24: The National Panchayati Raj Day 2022 was celebrated at H/Pyt Choglamsar II, under the chairmanship of the Commissioner/Secretary, Rural Development & Panchayati Raj Department, Ladakh, Saugat Biswas on 24th of April, 2022.
The Block Development Officer, Leh, Sarpanches, allPanches, Nambardars of different Mohallas of said H/Pyt also graced the occasion.
During the celebration, the Chairman stressed to keep in view the main theme- Clean and Green (already selected) and also asked the women participants to come forward in large numbers to represent their issues and comments before the Gram Sabha.
The BDO and Sarpanch also expressed their views before the participants and requested all to come forward in order to keep the area/Pyt Clean and Green.