Leh observes 23rd death anniversary of former minister Sonam Wangyal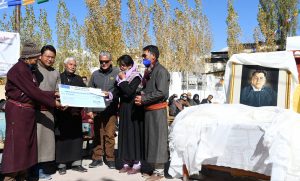 Leh, Nov 10: The 23rd death anniversary of Ladakhi pioneer and former minister Sonam Wangyal was observed today at the Sonam Wangyal Memorial Park in Housing Colony. The event was organised by the Aba Sonam Wangyal Memorial Society (SWMS). Deputy Chairman, LAHDC Leh, Tsering Angchuk, was the chief guest, whereas President, Ladakh Buddhist Association, Thupstan Chhewang, was the guest of honour for the event.
Speaking during the occasion, the Deputy Chairman of LAHDC Leh shared about Sonam Wangyal's tireless efforts for the upliftment of Ladakhi people and the betterment of education. Deputy Chairman LAHDC Leh spoke on the proposal submitted for the naming of the Open Stadium at Spituk after the late minister and assured to take it further at the Council level.
LBA President Thupstan Chhewang, in his tribute to Sonam Wangyal, shared the importance of remembering and acknowledging the service and immense contribution of the former minister towards the Ladakhi people and society. He also added that the struggle of the leader of yesteryears to uplift the downtrodden region of Ladakh socially, politically and economically cannot and should not be forgotten.
Earlier, Convenor, SWMS, PT Kunzang, in his welcome speech, gave a brief note on the life history of Sonam Wangyal and shared his contributions in uplifting the Ladakhi society. He also highlighted the various work done by the Aba Sonam Wangyal Memorial Society and informed about the memorandum put forward to the LAHDC Leh regarding the naming of the Open Stadium at Spituk in his honour.
During the event, SWMS donated a sum of Rs one Lakh as charity to the Chamtse Tsogspa for their humanitarian work.
Member, SWMS, Abbas Abidi, presented the vote of thanks.
Various dignitaries from social and political backgrounds, family members, friends and close relatives of the late minister attended the event.