Leh district holds first DLAC meeting on Safe Food and Healthy Diet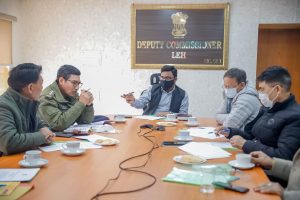 Leh, March 14: The District Level Advisory Committee (DLAC) on Safe Food and Healthy Diet held its first meeting under the chairmanship of Deputy Commissioner, Leh, Shrikant Suse, who is also the Chairman of the DLAC. The meeting discussed the effective implementation of the Food Safety and Standards Act, 2006, Rules and Regulations framed by the Food Safety and Standards Authority of India (FSSAI).
The officials apprised the DC Leh about the status of food safety parameters in Leh and various steps undertaken by the Food Safety Department to ensure safe and healthy food for the public. They informed the DC about the initiatives like Eat Right Challenge and Eat Right Mela undertaken by the Department to encourage people to take care of their health by eating hygienic and healthy food. The food safety officials also spoke about the emphasis placed on food fortification in UT Ladakh to overcome the lack of essential micronutrients in food.
DC Leh instructed the officials to ensure hygienic food availability in the market by sending inspection squads to strictly check the standards of food sold in the market. He also emphasised organising training workshops and awareness programmes for all the stakeholders involved in the food sector to ensure food standards according to the norms set by the government.
The meeting was attended by Chief Medical Officer, Leh; Chief Agriculture Officer, Leh; Chief Education Officer, Leh; General Manager, District Industries Centre, Leh; Assistant Director, FCS&CA, Leh; Assistant Commissioner, Food Safety, Leh, Dy SP, Police Headquarter, Leh; Child Development Project Officer, ICDS, Leh.