Lecture series themed exchanging ideas held at GMDC Zanskar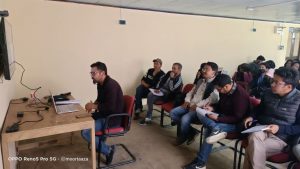 KARGIL, JUNE 16, 2022: Under Vidya Vistar Scheme of University of Delhi the partner institute Gargi College, Delhi and Government Model Degree College (GMDC) Zanskar today organized a lecture series themed exchanging idea.
In her welcome speech, Prof Promila Kumar, Principal Gargi College extensively talked about various achievements of Gargi College and academics and extra-curricular facilities available at the college.
She also stated that under Vidya Vistar scheme, many online series and offline activities will be planned for the benefit of students and faculty members of GMDC, Zanskar.
MNM Shabani Principal of Zanskar College spoke on the topic Vidya Vistar Scheme Looking Ahead and emphasized the need of such collaboration between a well-established college like Gargi and newly-established Zanskar college. He said there are ample opportunities of research and resource exchange to benefit the partnering institute.
Dr Tashi Lundup, Assistant Professor Sociology and Coordinator IQAC, GMDC Zanskar gave a detailed presentation on the topic "An Overview of Zanskar Valley", and also briefed about the future issues and challenges that Zanskar valley is likely to face.
Prof Promila Kumar, Principal Gargi College gave a detailed presentation on the topic "Conquering the Mathematics Phobia" wherein students and faculties were engaged in calculating complex mathematical applications in most simplified manner using Vedic Mathematics. The students were excited to solve them by realizing that Mathematics is simple and fear phobia of mathematics is unwanted.
Mohd Ishaq, Assistant Professor Chemistry of Zanskar College presented vote of thanks while Sailaja Modem, Associate Professor and Coordinator of Vidya Vistar Scheme of Gargi College moderated the session.