LBSC Society calls on CEC Leh, requests early completion of Gunphugs Monastery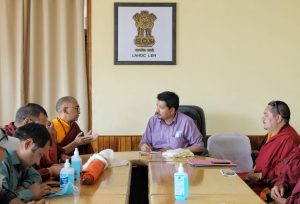 Leh, Sep 03: The Chairman/CEC, LAHDC Leh, Advocate Tashi Gyalson was called upon by a delegation from Lonchen Bakdar Skyab Chukshik-Jal Tsogspa (society) at the Council Secretary Leh today.
The delegation led by Khanpo Konchok Gyalston, of Wanla Monastery, congratulated CEC Tashi Gyalson for taking charge as the Chairman of the 6th LAHDC Leh.
The society requested the Chairman seeking his assistance in early completion of Wanla Gunphugs Monastery, Renovation, and extension of ground at Wanla Chugshik-Jal Lhakhang and completion of land allotment paperwork for Wanla Monastery Labrang at Nimoling Leh.
CEC Tashi Gyalson paid a patient hearing to the issues raised by the delegation and assured them to address all the concerns with utmost priority.
Monks of Wanla Monastery, Sarpanch, Nambardar, and other village representatives from Wanla A and Wanla B attended the meeting.