LAHDC Leh launches 'Kunsnyoms' scheme Distributes subsidised assistive aids to differently-abled beneficiaries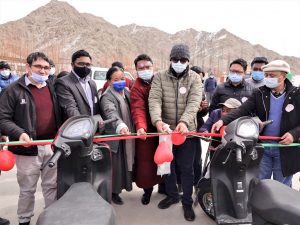 Leh, Feb 14: Hill Council Leh, under its subsidised schemes, has initiated the 'Kunsnyoms' scheme through the Department of Social Welfare, Leh which aims to provide assistive devices/technologies to people with differently able (PwDs) at a 90% subsidised rate.
A symbolic program was organised by the Department of Social Welfare, Leh in which the Chairman/CEC, LAHDC Leh, Adv. Tashi Gyalson presided over as the chief guest whereas, Dy Chairman, Executive Councillors of LAHDC Leh, DC/CEO LAHDC Leh, and the Councillors of Chushul, Chuchot, Sakti, Skurbuchan Constituencies of LAHDC Leh were the guest of honors.
DSWO Leh, Tashi Chondol threw light on the initiative and extended gratitude to the Hill Council for keeping a separate budget in the last financial year for the department in purchasing these assistive technologies/devices.
Dy Chairman, Tsering Angchuk who's also the Executive Councillor for Social Welfare Department, stressed the need for equal and independent participation from the differently-abled persons in the mainstream society. He also stated that the vision behind the 'Kunsnyoms' scheme is to create an inclusive and accessible society in Ladakh. He further added that the department under the guidance of the Hill Council, Leh has been working efficiently towards empowering left out sections of the society by providing the required technologies and modern-day devices.
CEC Tashi Gyalson emphasised that LAHDC Leh has always been at the forefront to implement programs, schemes, and policies for differently-abled people. He added that the present government at the Hill Council Leh is making all possible efforts to bring equality and justice through these kinds of affirmative action/schemes to such beneficiaries.
Representatives from the beneficiaries also extended their gratitude to the Hill Council and District Administration Leh for helping the differently-abled persons of Leh through its subsidised scheme 'Kunsnyoms'.
The program concluded with the note of thanks from the TSWO Leh and the distribution of Motorised Tricycles, Motorised Wheelchairs, and hearing aids to the beneficiaries from across the Leh district.
CPO Leh, Chairman, Child Welfare Committee, and other district officials attended the program.