LAHDC Kargil delegation calls on Parliamentary Standing Committee on Home Affairs Discusses issues related to empowerment of LAHDCs, education, employment, other sectors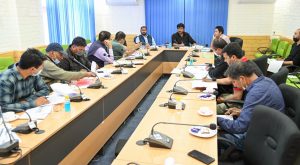 KARGIL, AUGUST 18, 2021: A delegation of the LAHDC Kargil comprised of the Executive Councilor for Works Aga Syed Abbas Razvi and Executive Councilor for Health Mohsin Ali called on the Parliamentary Standing Committee on Home Affairs chaired by the Chairman of the committee Congress MP Anand Sharma at Leh on Tuesday.
The delegation submitted various issues pertaining to the district which included among others the demand for empowerment of the LAHDCs and other issues related to education, employment and other important aspects pertaining to Kargil District.
The delegation projected demand that the budgets at the disposal of the LAHDCS should be made non-lapsable so that maximum number of development works could be ensured in the region, implementation of the section 43 and section 44 of the LAHDC Act, 1997 and restoration of the Council Funds Account Head 8448, incorporation of Council Fund in the current PFMS system and making all budgets non-lapsable keeping in view the short working season.
The delegation also urged for financial powers to the LAHDCs to effect accord of administrative approval for works up to Rs 5 crores and for contract allotment up to Rs 25 crores, formulation of inter-district Advisory Committee as mandated in the LAHDC Act, increasing the strength of Executive Council by addition of the post of Deputy Chairman in the LAHDCs and other related issues.
As regards to various issues pertaining to the Education and Employment Sector, the delegation projected demand for the reservation of Ladakhi students in medical, engineering and other professional institutions in J&K and other parts of the country, creation of Ladakh Public Service Commission, Ladakh UT Services Selection Recruitment Board and Ladakh Transport Undertaking, allocation of a defined quota for youth of Kargil in Ladakh Scouts, special recruitment drive in paramilitary forces (ITBP, ITBF, CRFP etc.), stationing of one company of IRP 25th Battalion at Kargil and a battalion of the Border Battalion for which recruitments are currently underway.
The other issues highlighted by the delegation included the demand for operation of Kargil Airport for civilian air service, restructuring of loans in favour of hoteliers and guest house owners, MSMEs, taxi operators, handing over of the road stretch from Zero Point up to Sonamarg from Project BEACON of the BRO to the Project VJAYAK on the National Highway 1-D for the purpose of snow clearance, demarcation of UT boundaries between Ladakh and J&K UTs, release of BADP funds and other related issues.
The delegation further highlighted the need for establishment of an inter-district railway line in UT Ladakh.