LAHDC Kargil accords warm farewell to outgoing CCF, DTO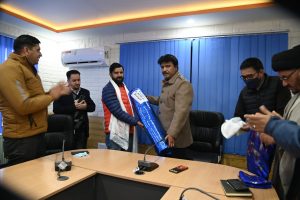 KARGIL, NOVEMBER 19, 2021: Ladakh Autonomous Hill Development Council (LAHDC), Kargil accorded warm farewell to the outgoing officers Chief Controller Finance (CCF), LAHDC, Kargil Showkat Ali Rather and District Treasury Officer (DTO) Kargil Muhammad Hanief Tantray during a farewell function held at the Confrence Hall, Council Secretariat Kurbathang here today.
The officers have been transferred to J&K UT recently.
Chairman and Chief Executive Councillor Feroz Ahmad Khan, Executive Councillor for Social Welfare Aga Syed Hassan Arman Mosavi, Executive Councillor for Works Aga Abbas Razvi, Additional Superintendent of Police Iftikhar Ahmed, Chief Planning Officer Abdul Hadi besides district officers and staff of Council Secretariat Kargil were present on the occasion.
CEC Feroz Ahmad Khan while applauding the role of the two officers said that they have worked diligently for the development of the district and their contribution has remained immense during their tenure in Kargil particularly in strengthening the financial system, conducting recruitment process and proper conduct of other alloted responsibilities.
Recounting his experience of working with the outgoing officers, the CEC Kargil said that CCF's role has remained pivotal in clearing the accounts of the LAHDC Kargil that had remained unsettled for 15 years, adding he said that the officer has also sincerely performed all the responsibilities assigned to him by the LAHDC and the District Administration.
Appreciating the contribution of DTO Kargil CEC Feroz Khan stated that during his 4 years tenure the officer has remained profesional towards his duties and has performed all the allotted assignments to him in the most professional manner.
The CEC on behalf of LAHDC Kargil extended best wishes to the outgoing officers and prayed for a healthy, prosperous and bright future ahead for them.
Meanwhile, the officers were felicitated with traditional khataks and gifts by the dignitaries as a mark of respect and appreciation.