Ladakh Winter Sports Club receives Ice Hockey gears & equipments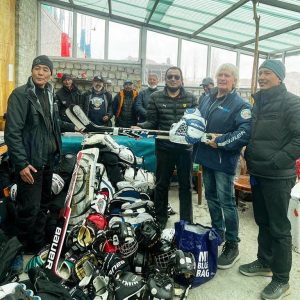 Leh, February 24: Ladakh Winter Sports Club received Ice Hockey gears and equipments from Markus Nirschl, Coach B and C at German Ice Hockey Association –Coach, Wanderers Germering for U13 and U20 team, in presence of Secretary, Youth Services and Sports, UT Ladakh, Ravinder Kumar.
President, Ladakh Winter Sports Club, N.A. Gyapo apprised the Secretary about the support, in the form of equipment and coaching by Coach Markus and his friends from the last 8 years. He donated 5 sets of Ice Hockey Goalie sets, equipments like Ice Hockey sticks, pants, helmets, uniform, pucks, chest guard etc. It was informed that Ladakh Winter Sports Club will further distribute to deserving players.
Secretary Ravinder appreciated the support of coach Markus in developing Ice Hockey in Ladakh and requested to continue the same in future as well.