Ladakh Tourism participates in 3-day OTM, Mumbai Secy Tourism: We want to make Ladakh a destination on the international tourism map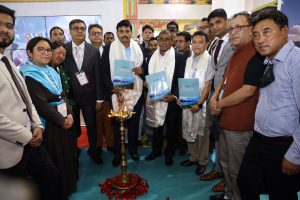 Leh, March 15: Ladakh Tourism is participating in the 3-day long Outbound Travel Mart (OTM), the first major international travel trade show to boost tourism activities post-pandemic. OTM 2022 begins on March 14 at the Bombay Exhibition Centre, Mumbai coming after a two-year hiatus, the three-day OTM has 600+ exhibitors from over 20+ countries, 29+ Indian States/UTs.
Chairman & CEO Fanfest Media Ltd, the organiser of OTM, Sanjiv Agarwal welcomed the dignitaries and participants of the travel and tourism industry.
On Day 1 of the event, Ladakh Tourism through its enchanting ethnically decorated pavilion made its presence feel like an exotic tourist destination reflecting its traditional cultural ethos of welcoming guests. The Pavilion of UT Ladakh Tourism was jointly inaugurated by the Tourism Minister, Maldives, Abdulla Mausoom, Minister for Tourism, Govt. of Tamilnadu, Dr M. Mathiventhan, Managing Director, MMPRIC, Thayyib Mohamed and Secretary, Tourism, UT Ladakh, Kacho Mehboob Ali Khan.
Secretary, Tourism along with Director, Tourism, Ladakh, Kunzes Angmo inspected the stalls and interacted with the tourism stakeholders from Ladakh who are participating in OTM 2022.
The Secretary emphasised the importance of physical interaction over any other mode of interaction. Such interactions help in building long-lasting business relationships and promote understanding and knowledge about emerging needs and requirements of the travel and tour industry. The Secretary while interacting with various stakeholders from India and abroad also expressed his belief that Tourism is an industry, which will definitely bounce back post covid restrictions. He stated that people/human-being by nature likes to travel, see different places, cultures, and experience varied cuisines. Every person essentially is a tourist at some point in his or her life and the quest for adventure, satisfaction and thrill will always remain the guiding force. These experiences cannot be achieved digitally. Therefore, OTM is such an important platform.
The Secretary also mentioned the hard times, tourism industry and its stakeholders faced over the last two years will be over and hoped that most of the stakeholders will recover and prosper over the coming year or two as the pandemic recedes.
The Secretary said, "We want to make Ladakh a destination on the international tourism map". He also underlined the importance to promote a responsible kind of tourism in Ladakh as Ladakh is in the Himalayas and it is an ecologically fragile region. "We want to have a neat, clean, safe and peaceful tourist destination" he added.