Ladakh to observe sustained cleanliness drive on August 5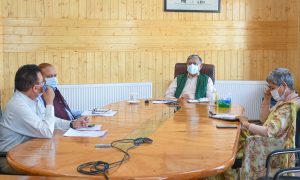 Leh, July 27: Advisor Ladakh, Umang Narula chaired a meeting to discuss the preparation for a sustained cleanliness drive to be observed from August 5 in UT Ladakh.
The meeting was informed that as per the directions of LG, RK Mathur, a sustained cleanliness drive would be observed keeping in mind the significance of August 5th. Advisor laid emphasis on preparing a comprehensive action plan by the Departments, all stakeholders and a simultaneous awareness campaign among tourists and all stakeholders.
Advisor Narula further asked the Deputy Commissioners of the districts to launch the drive on August 5 with the involvement and guidance of the LAHDCs, Leh and Kargil. Also, it was suggested that the drive may be organised in collaboration with School and College students, volunteers, NGOs, Security agencies, stakeholders from the Tourism Industry etc.
He added that it should not merely be a government programme, but it should be owned by the people and have their active participation. He stressed upon community involvement and enhancing awareness as the two essential elements of this campaign. Besides the tourists should also be educated about the need for minimizing plastic waste, ensuring that no littering takes place, proper disposal of waste in dustbins etc. He further added that areas with high tourist footfall should be targeted in the campaign.
Talking about the media campaign, he asked the concerned departments to prepare leaflets and flyers to create awareness on large scale and also to organise online competitions on this topic in Schools and Colleges. The Housing Deptt was asked to install pledge signboards and selfie points at various important locations.
He further asked the Secretary, Rural Development Department & Panchayati Raj to involve BDOs, Nambardars and Panchayats in creating awareness among the people
Dr Pawan Kotwal, Principal Secretary, PD&MD and H&MED; Ajeet Kumar Sahu, Commissioner/ Secretary, H&UA; Saugat Biswas, Administrative Secretary, Rural Development Department: Mehboob Ali, Administrative Secretary, Tourism & Culture; Padma Angmo, Administrative Secretary, Information and Srikant Suse, Deputy Commissioner/CEO, LAHDC, Leh and Santosh Sukhadeve, Deputy Commissioner/CEO, LAHDC, Kargil.