Ladakh to host first Kaushal Mela to empower youth with new-age skills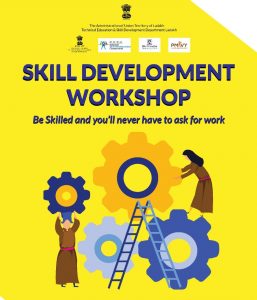 Leh, March, 16: The Department of Technical Education & Skill Development is organising Kaushal Mela as part of the Skill Development Programme of the Government of India under Pradhan Mantri Kaushal Vikas Yojana (PMKVY). Kaushal Mela will be organised at Auditorium Hall Kargil on March 24 and in Leh at Sindhu Sanskriti Hall on March 27.
The workshop aims to take forward the mantra of the Prime Minister for the youth to 'skill, reskill and upskill' to remain relevant in the rapidly changing business environment and market conditions.
Kaushal Mela will host several experts related to skills in solar technology, beauty and wellness, tourism and hospitality, apparel and home furnishing, food processing, electrician and plumbing. The Mela will also have a session on entrepreneurship to brief the youth about the available opportunities to start their own business.
Director-General Training, National Skill Development Corporation, National Institute of Entrepreneurship and Small Business Development, Tata Power Skill Development Institute and various sectoral skill councils from across the country will give presentations regarding specific skills, their relevance, post-training opportunities, apprenticeship and entrepreneurship options.
Around 2060 youth have already registered for the Kaushal Mela which will also be live-streamed on social media for wider participation.
Director, NIESBUD is participating in the workshop to promote entrepreneurship among skilled youth. NIESBUD is also collaborating with the Higher Education Department for setting up Entrepreneurship Development Cells in Colleges.
Industrial Training Institutes (ITI) in Leh and Kargil are imparting training in 14 different trades. Also, Short Term Training (STT), Recognition of Prior Learning (RPL) and Special Training will be offered under the PMKVY to skill the youth of Ladakh so that they can take up employment in various industries and also become entrepreneurs.