Ladakh SLSSC meeting recommends Action Plan of approx. Rs 18 cr under Swachh Bharat Mission-Gramin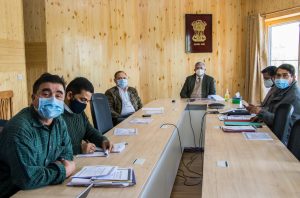 Leh, May 11: Advisor, Ladakh (Chairperson, State Level Scheme Sanctioning Committee), Umang Narula chaired a meeting to recommend the Annual Implementation Plan (AIP) under Swachh Bharat Mission-Gramin (SBM-G), Phase-II for the financial year 2022-23 at the UT Secretariat.
In the meeting, the concerned officials apprised the Advisor about the preparedness for Open Defecation Free (ODF) plus protocols that ensure all households and public places in a village have access to a toilet; Solid Waste Management (biodegradable and plastic waste); Liquid Waste Management (greywater and blackwater); Faecal Sludge Management (FSM); Community Sanitary Complexes (CSCs); Faecal Sewage Treatment Plant (FSTP) and transportation of waste.
The Advisor directed the committee to devise an action plan for better management of the CSCs. He reiterated that encouraging sustainable waste management practice in the people is a matter of 'behavioural change' and that continued behaviour change communication can be instilled in the people through Information, Education and Communication (IEC). To incorporate the changes effectively it is important to spread awareness among the masses to adopt modern and sustainable waste segregation methods, he added.
Principal Secretary, Planning and Revenue Department, Dr. Pawan Kotwal stressed the need to develop a model for the Community Toilets that is sustainable and maintainable according to the requirements of a place like Ladakh which is different from other places in regard to the terrain and climate. He asked the officials to prepare an SOP and identify key locations for CSCs.
The Commissioner/ Secretary, PHE/I&FC Department, Ajeet Kumar Sahu reiterated that it is mandatory for all waste generators to be responsible for segregating their waste into wet, dry, and domestic hazardous waste, in accordance with Solid Waste Management Rules, 2016. He suggested that hotels/guest houses should be encouraged to use Packaged Sewage Treatment Plan for faecal management. Packaged STP is an innovative and truly versatile system for the effective treatment of wastewater, including Nutrient removal.
The Commissioner/ Secretary Rural Development and PR Department, Saugat Biswas apprised the Advisor about the plan for IEC and capacity building. He also informed the committee about the targets for ODF plus; targets for Individual Household Latrines (IHHLs); number of CSCs; number of villages saturated with SWM and LWM; number of blocks having plastic waste management unit; number of districts where existing STP/FSTP identified for cotreatment of faecal sludge, etc.
Assistant Commissioner Development, Leh gave a presentation on the components of the Annual Implementation Plan and apprised the Advisor of the present status of Swachh Bharat Mission (G) in Ladakh.
The meeting was also attended by Deputy Commissioner, Leh/Kargil; Assistant Commissioner Development, Leh/Kargil and District Panchayat Officer, Leh/Kargil.