Ladakh Scouts wins 15th CEC Cup Men's Ice Hockey Championship 2022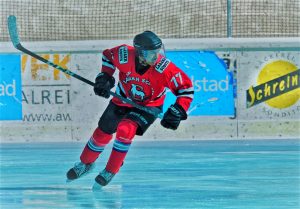 Leh, Feb 17: The final match of the 15th CEC Cup Men's Ice Hockey Championship, 2022 was played between the teams of ITBP and Ladakh Scouts at the Ice Hockey Rink, NDS Sports Complex, Leh today.
Despite a competitive performance from both the teams, it was Ladakh Scouts who sealed victory in the end and lifted the 15th CEC Cup Men's Ice Hockey Championship 2022.
The Chairman/CEC, LAHDC Leh, Adv. Tashi Gyalson presided over the closing ceremony as the chief guest. Executive Councillors & Councillors of LAHDC Leh; DC Leh; SSP Leh; Head of Religious Organisations; Commanding Officers of ITBP, Ladakh Scouts and various other guests attended the event.
Addressing the gathering, CEC Gyalson congratulated the participants for showing true sportsmanship spirit throughout the game. He also extended his congratulations to the winner and runner up teams of the Women's category. Highlighting the popularity of the game in the Union Territory, he stated that the sportspersons from Ladakh have great potential in bringing glories at different sports at the national and international level.
CEC Gyalson spoke on the status of work progress with regards to the upgradation of the existing Ice-Hockey rink at NDS Sports Complex, Leh. He also stated that the 6th Hill Council is dedicated to the strengthening of sports infrastructures at grass-root levels in every corner of the district. He further added that youths need to develop and enhance skills so that they can explore more ventures and contribute to every sector of development. He also lauded the tireless efforts of the organising committee in smoothly conducting the tournament amid the current Covid situation in the district.
Prizes were distributed and players along with officials were felicitated by the chief guest in the end. The tournament has been organised by the Department of Youth Services & Sports, Leh in collaboration with Ladakh Winter Sports Club, Leh.