Ladakh Literature Festival – Day 1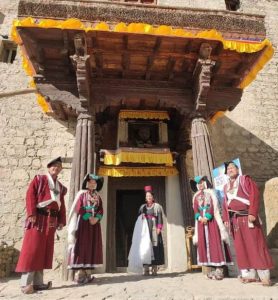 The first-ever Ladakh Literature Festival began today at the ramparts of historic Leh Palace here today. Ladakh is going to transform as new Union Territory on a literary note with the three- day Ladakh Literature Festival. Already famous with famous scenic beauty tourism spots, Ladakh has a uniqueness to offer to the lovers of literature, art and culture.
Speaking on the inaugural of LLF, Leh Hill Council Chief Executive Officer Gyal P Wangyal said that the festival would grow in the times to come and unique culture, heritage and customs would impress the outside participants to write about Ladakh.
Member of Parliament Jamyang Tsering Namgyal said the LLF would help Ladakh to develop wisely and allow people to have literary outlook. University of Ladakh Vice Chancellor C Phunsog said such festivals take civilization, culture and society forward.
Divisional Commissioner Saugat Biswas said the Lit-Fest would open the culture, tradition, history and society to the world in a different way.
On the occasion, a book titled Leh Khar Gis Khang Zigs authored by Gen Thupstan Paldan was released.