Ladakh celebrates Biodiversity Day Exhibits local bioresources from Ladakh in Chennai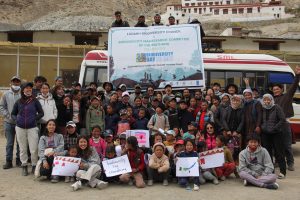 Leh, May 22: Ladakh Biodiversity Council (LBC) along with Himya Biodiversity Management Committee (BMC), supported by SECURE Himalaya Project, exhibited local bioresources from Ladakh in Chennai during the celebration of International Day for Biological Diversity 2022 celebrated by the National Biodiversity Authority (NBA). The programme was inaugurated by the Minister of Forest, Environment and Climate Change, GoI, Bhupender Yadav at Chennai today. It is pertinent to mention that Advisor Ladakh who is also the chairman of the Council chaired its first meeting in the month of January 2022.
In Ladakh, LBC in association with BMC Chumathang and GoI-UNDP-GEF SECURE Himalaya Project, organised a cleanup drive in Chumathang village and different activities for school students from school students Government School, Chumathang. Fellows from the current batch of Naropa Fellowship Programme participated and co-organised the events at Chumathang. The activities included theoretical sessions on conservation of biodiversity, waste segregation, disposal and management, games on biodiversity and climate change, drawing and painting competition for the junior classes etc.