LAACL organizes poetic symposium on International Mother Language Day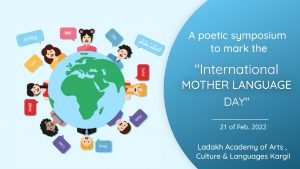 KARGIL, FEBRUARY 21, 2022: Ladakh Academy of Art Culture and Languages (LAACL) Kargil today organized a poetic symposium to mark the observance of International Mother Language Day at conference hall Baroo.
Member Parliament (MP), Ladakh, Jamyang Tsering Namgyal was the chief guest while Padma Shri awardee Akhone Agar Ali Basharat was the guest of honor.
While speaking on the occasion, MP congratulated the Padma Shri awardee for getting the prestigious award in the field of education and literature and appreciated his contribution in preserving and promoting Balti language and culture.
The MP said it is an honor for the entire Ladakh region and he is an inspiration for budding writers and researchers.
On the occasion, Namgyal also congratulated LAACL Kargil, writers and poets of different languages of Kargil for organizing the program.
Stressing on the promotion of local identities of Kargil, he said the UT Administration is fully committed to preserving local languages and culture.
The MP said various inclusive policies have been framed and in near future, many pragmatic steps will take for the preservation of cultures and identities of Ladakh.
Namgyal also directed the representative of LAACL Kargil to furnish suggestions for policy framing regarding preservation and promotions of languages and culture.
The MP also presented his own poetry. On the occasion, poets representing Balti, Shina, Purgi, Brokskat, Dardi, Ladakhi, and Urdu languages presented their poetry.