LAACL Kargil, ABH organize day long literary programme Yaad-e-Moheb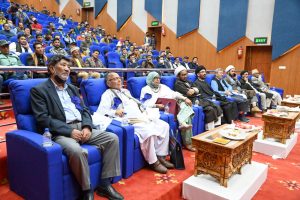 KARGIL, SEPTMBER 21, 2021: As a part of various events being organized in the district under Azadi Ka Amrit Mahotsav, Ladakh Academy of Art and Languages (LAACL) Kargil in collaboration with the Association of Baltis in Himalayas (ABH) organized a day long seminar cum poetic symposium on the theme Yaad-e-Moheb at Auditorium Hall Kargil here today.
Executive Councilor for Social Welfare Aga Syed Hassan Arman Mosavi was the chief guest, while former Commissioner Secretary Revenue and prominent Urdu/Balti/Purgi poet Kacho Asfandyar Khan Faridoon was the guest of honor on the occasion.
In his address, the EC Social Welfare lauded the LAACL Kargil and ABH for organizing such fruitful and unique programme. He stated that the contribution of Raja Hussain Ali Khan Moheb in the field of Marsiya and Noha is immense and incomparable, adding he suggested that LAHDC Kargil can plan to re-name any public place in the name of Moheb, so that the coming generations will remember this legendary poet.
Kacho Asfandyar Khan Faridoon while speaking on the occasion highlighted the contribution of Moheb in the the field of literature. He said that his famous book Dastan-e-Karbala was inspired by the pain of Moheb and his soulful and painful poems on the tragedy of Karbala.
Meanwhile, prominent scholars, writers and poets delivered their poems, papers and speeches on Moheb and his extraordinary contribution to the society.
Those who spoke on the occasion included Chairman Imam Khomeini Memorial Trust (IKMT) Kargil Sheikh Muhammad Sadiq Rajae, Representative from Anjuman e Jamiat ul Ulema Isna Ashariya Kargil (AJUIAK) Kargil Sheikh Mohsin Ali, former Director Doordarshan Srinagar Wahida Rizwan and prominent scholar from Leh.Haji Fida.
Recounting the extraordinary contribution of Raja Hussain Ali Khan Moheb in the field of literature, around 20 poets and writers presented their papers and poetic renderings mostly aimed at paying rich tributes to the martyrs of Karbala.
Writers and poets who rendered their presentations included Kacho Asfandyar Khan Faridoon, Akhone Asgar Ali Basharat, Muhammad Ali Ashour, Muhammad Sadiq Rustam Hardassi, Fazil Abass, Ashraf Ali Sagar, Muhammad Hussain Panir Jagir Tral, Muhammad Ali Khumar, Akbar Ali Khan Shaheen, Wahida Rizwan, Muhammad Hussain Fayaz, Muhammad Taqi Khan Nayaab, Akhone Fida Hussain, Ghulam Qadir Zaki, Bashir Ahmad Wafa, Muhammad Hadi Balti, Ashraf Ali Sagaar and Feroz Ahmad Akhone.
General Secretary, ABH Ashraf Ali Sagar delivered the welcome address while Nazir Hussain, Deputy Secretary, LAACL Kargil delivered the vote of thanks.
The proceedings of the programme were conducted by prominet cultural activist and writer Ajaz Hussain Munshi and noted Balti poet and broadcaster Sibte Hassan Kaleem.
Among others who were present on the occasion included writers, poets, district officers and a good number of literary enthusiasts.