KVK Kargil-1 organizes mega animal camp at G M Pore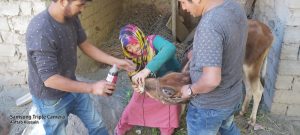 KARGIL, OCTOBER 07, 2021: Krishi Vigyan Kendra Kargil-1 (KVK-1) organized a day long mega camp on animal diseases, diagnosis and treatment at Gond Mangalpore village here today.
Scientist Animal Sciences KVK Kargil-1 Dr Syed Muhammad Shah along with other staff of the KVK and local farmers participated in the camp.
During the course of the camp, more than 50 animals were bought for disease diagnosis and treatment purposes which were examined and treated by the scientists as per the symptoms and history provided by their owners.
Moreover, medicines for de-worming, diarrhoea, in-appetite and galactogouges were provided to the owners free of cost. They were also given prescription of medicines for other ailments.
During the camp, pamphlets written in Urdu language prepared by the KVK were also distributed among the farmers.
Meanwhile, a special Swacchta campaign was also conducted in the area in which about 80 farmers participated who were given awareness on clean milking and prevention of mastitis, importance of clean sheds for better animal health and production, prevention of mastitis by proper hygiene, dairy animal management and role of deworming in animal production and health score.
Farmer's fraternity of the village extended gratitude to the KVK-1 Kargil for organizing the camp and urged for more such camps in future.