KVK Kargil-1 concludes ICAR sponsored farmers capacity building cum training program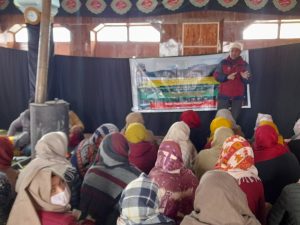 KARGIL, DECEMBER 18, 2021: Krishi Vigyan Kendra (KVK) Kargil-1 concluded a three-day farmers capacity building cum training program at Budgam which was sponsored by Indian Council of Agricultural Research (ICAR) here on Friday.
The program was organized in continuation with a series of training events for capacity building and profitable dairy farming in the Choskore area of Kargil under an ICAR sponsored project titled capacity building of farmers through training programs on Feed Resource Development and Grassland Management.
The project is sponsored by ICAR, New Delhi and funded by the Ministry of Fisheries, Dairying and Animal Husbandry, Government of India.
The program was conducted under the theme "Fodder Management and Quality Fodder Production".
The program was attended by 41 farmers hailing from Choskore area of the district who participated in training and capacity building.
Training coordinator of the program, Nazir Hussain (Agronomist KVK Kargil-1) delivered lectures on scientific cultivation of fodder, silage making, scientific cultivation of legume crop.
He also detailed the importance of crop rotation to enhance fodder production for its wider availability during harsh winter months.
Head KVK Kargil-1, Dr Muhammad Mehdi Akhone highlighted the role and importance of proper animal feeding and timely vaccination for profitable animal husbandry. He urged the participants to practice scientific management of animal husbandry for sustainable economy and nutrition.
Dr Mehdi thanked the Directorate of Extension SKUAST-K, ICAR New Delhi and the Union Ministry of Fisheries, Animal Husbandry and Dairying for the project and urged that more such programs should be organized in Kargil.
At the valedictory function, KVK Kargil distributed certificates to the trainees. One of the trainees on behalf of all thanked the KVK for organizing the program and urged that more such programs should be organized in future for farmers.
She also requested Dr Mehdi for any possible help in vegetable enterprise in the region to which he agreed.
Nazir Hussain thanked Dr Muhammad MehdiAkhone, Dr Nassren Fatima, Dr Rinchen Dolkar and other staff members for organizing the program. He also thanked the participants.