Kisan Mela under Kisan Bhagidari Prathmikta Hamari Campaign held in Leh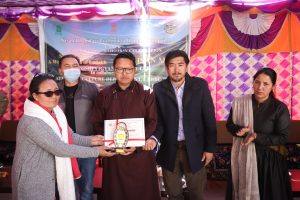 Leh, April 26: Krishi Vigyan Kendra, Leh in collaboration with the Agriculture Department, Leh organised a Kisan Mela under the Kisan Bhagidari Prathmikta Hamari Campaign, being held at KVKs across the country under the aegis of Azadi ka Amrit Mahotsav, at KVK, Stakna, Leh today.
Executive Councillor for Agriculture, Stanzin Chosphel was the chief guest of the occasion.
Addressing the gathering, EC Stanzin Chosphel lauded the efforts of both the KVK Leh and Agriculture Department, Leh for organising the event. He advised the farmers/ participants to take maximum benefit from such Kisan Melas and urged them to learn a practice/trade from the melas and to surely implement them.
Highlighting the initiatives of making Ladakh an organic state, EC Chosphel added that vermicompost and compost have huge business potential in this regard. He appealed the youths to participate in agriculture and allied sectors as its entrepreneurial opportunities are immense. He added that the concept of integrated farming and the scope of floriculture should be revived and explored.
Senior Scientist/Head, KVK Leh, Dr Feroz-Din-Shiekh shared that the Kisan Bhagidari Prathmikta Hamari campaign stresses on prioritising the role and participation of the farmers and collaboratively resolving their issues by all the line departments. He also highlighted the various schemes, training and programmes undertaken by the KVK Leh for farmers welfare and benefit.
Similarly, Chief Animal Husbandry Officer, Leh and District Agriculture Officer, Leh gave detailed insights about the different initiatives, schemes, and subsidized loans provided by their departments which could be availed of by the farmers.
The day-long event also had various exhibition stalls displaying products, by-products and services from agriculture and its allied sectors.
Progressive farmers from different blocks were felicitated by the Agriculture Department, Leh, under the Agricultural Technology Management Agency (ATMA) scheme, for their commendable work in Ladakh Greenhouse and Vermicompost. Likewise, various farmers from different villages who particpated in skill development training at KVK, Leh were also felicitated on the occasion.
Senior Scientists, officers and representatives from the Defence Institute of High-Altitude Research (DIHAR), High Mountain Arid Agriculture Research Institute (HMAARI), Central Arid Zone Research Institute (CAZRI) and GB Pant National Institute of Himalayan Environment, besides other officers of concerned departments and progressive farmers from different blocks of the districts participated in the event.