Justice Tashi Rabstan lays foundation stone of Munsif Court Complex at Padum Zanskar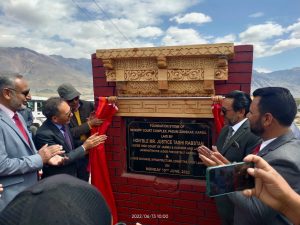 KARGIL, JUNE 13, 2022: Justice Tashi Rabstan, Judge High Court of Jammu and Kashmir and Ladakh and Administrative Judge of District Kargil today laid the foundation stone of Munsif Court Complex at Padum Zanskar.
On this occasion, Aijaz Ahmad Khan Principal District and Sessions Judge Kargil, Moneer Ahmad Mir Munsiff Zanskar along with LAHDC Kargil Councilors Stanzin Lakpa and Stanzin Jigmet of Cha and Karsha (constituencies) respectively, Sonam Dorjay SDM Zanskar, Nissar Ahmad SE PWD Kargil, Khadim Hussain President Bar Association Kargil, Sajjad Hussain Executive Engineer PWD/ZDA Zanskar Kacho Mumtaz Exe. Eng. Hydraulic Zanskar along with the HODs of all departments of Sub-Division Zanskar besides Principals of Govt. Model Degree College Zanskar and Govt. Higher Secondary School Padum and members of Bar Association Kargil, Court Staffs and PLVs were also present.
Justice Tashi Rabstan impressed upon the Executing Agency to expedite the construction work and complete it as early as possible so that the public at large is benefitted. He also laid stress on providing all facilities to the litigants and lawyers.
The Executing Agency displayed the plan and explained the structural area of the complex. After laying the foundation stone, a plantation drive was carried on by Justice Tashi Rabstan and joined by other dignitaries with the active support of the Forest Department Kargil.
President Bar Association Kargil delivered vote of thanks and highlighted the importance of the proposed Court Complex at Munsiff Court Complex and thanked all the officers for providing active support.
Later, Justice Tashi Rabstan held a meeting with the local administration and instructed SDM Zanskar to identify land (50 kanals) for the construction of High Court Guest House.
Justice Tashi Rabstan also conducted an inspection of Munsiff Court Zanskar. While interacting with the Court Staff, he assured to redress their grievances.