Joint Chief Election Officer J&K, Ladakh visits Kargil for Special Summary Revision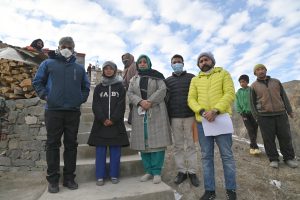 KARGIL, DECEMBER 07, 2021: Joint Chief Election Officer for the Union Territories (UTs) of J&K and Ladakh Anil Salgotra today visited Kargil in order to check the forms filled during Special Summary Revision of Electoral Roll 2021.
During the visit, the Joint CEO visited various villages and polling centres of Shakar Chiktan sub-division including Chulichan, Kukarchey, Gyunkmaspang and Ningros Hagnis polling stations.
Deputy District Election Officer Nargis Banoo, Tehsildar and AERO Shakar Chiktan Kacho Asgar Ali besides concerned officials of District Election Department Kargil also accompanied the Joint CEO during the tour.
Anil Salgotra did ground assessment of summary revision works of the electoral roll in Shakar Chiktan sub-division, where he also interacted with Booth Level Officers (BLO's) and other concerned officers.
During the visit at different polling centres, the Joint CEO, took an assessment of the electoral forms wherein he approved the satisfactory filled forms while as disapproved forms that didn't fall on the pre-requisites of the documentation process.
The Joint CEO directed the concerned BLO's to work with precision in works related to documentation of electoral rolls and also directed them to use Garuda Application, of the Election Commission of India (ECI), for online registration.
The application has been launched for digital mapping of all polling stations, to ensure faster, smarter, transparent and timely completion of election work.
Earlier, the Joint CEO was received at Heniskote by Deputy Chief Election Officer Kargil Nargis Banoo besides other concerned officers and concerned officials of District Election Department Kargil.