JJM Implement Support Agency, GDC Drass celebrate World Water Day at Drass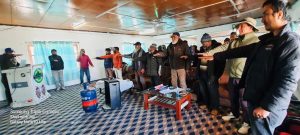 KARGIL MARCH 22, 2022: Jal Jeevan Mission (JJM) Implement Support Agency (ISA) under PHE department and Government Degree College Drass today celebrated World Water Day.
The day is celebrated to highlight the importance of freshwater and its resources. This years' theme is "ground water: making the invisible visible".
The program was started by Shamim Sarpanch Chowkiyal, who welcomed JJM team and everyone else for organizing the water awareness program at Drass.
BDC Chairperson, Noor Muhammad highlighted the importance of water and steps to preserve it. He also urged the JJM team to identify all the sources of water and work keeping the harsh winter conditions in mind.
While briefing about the JJM mission of providing tap water to every household, Dhananjay Singh, PMU Unit Kargil spoke at length about the implementation and to achieve this target by August 15, 2022.
It was followed by a presentation by Ilyaz Hussain, field facilitator, about the JJM mission in general and water purification in particular.
Khurshid Ahmad, Principal HSS Drass and Haider A. Askary, Assistant Professor GDC Drass also threw light on the importance of the day and its significance.
The program was attended by all faculty members of College and HSS Drass, BDC member, all PRI members, PHE officials and students. The event was concluded by reading a pledge to save water by all the audience present on the occasion.