ITBP Leh to organise Frontier Level River Rafting Expedition-2021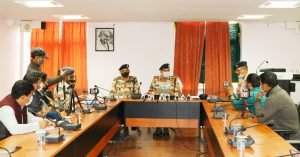 Leh, Aug 06: Seven Ladakh Police personnel would take part in the Frontier Level River Rafting Expedition-2021 in Zanskar River from August 9 to 12 organised by the North-West Frontier, Indo-Tibetan Border Police (ITBP). The event would be organised under the supervision of Inspector General, North-West Frontier, ITBP Leh, UT Ladakh, Lhari Dorjee Lhatoo.
The rafting expedition is aimed at enhancing skills and cohesiveness amongst the participants in water sports to provide them with a better platform to put their best during national and international competitions.
A total of 55 participants, including seven Ladakh Police personnel and eight women participants, from various units of North-West Frontier would participate in the expedition. The expedition would start from Padum, Zanskar, where the IG, ITBP, Lhari Dorjee Lhatoo would flag off the rafting expedition.
The ITBP would be organising medical camps at Zangla and Merak and other activities would also be held to strengthen their rapport with the locals.
Meanwhile, Deputy Inspector General, NW Frontier, ITBP, Chhota Ram Jat, distributed the booklet, 'Guardians of the Environment', published by MHA, highlighting the work of the Central Armed Paramilitary Forces (CAPF) in protecting the environment to media houses.