IT Secy Ladakh inaugurates 5-day ToT on Data Analytics in Life Sciences Launches Science, Technology and Innovation Hub (STI ) website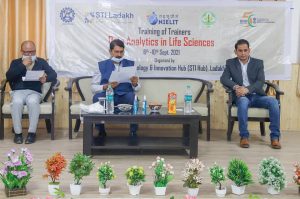 Leh, Sep 6: The DST-SEED funded Science, Technology and Innovation Hub, Ladakh organizing a 5-day training program for trainers at NIELET. The Secretary Information Technology of Ladakh, Saugat Biswas was the chief guest in the inaugural session of the training program. He applauded the collaborative efforts of CSIR-IMTECH, NIELIT Jammu & Leh, and PGIMER Chandigarh for establishing the DST-SEED funded STI Hub in Ladakh. Biswas said that the training will be instrumental in Re-skilling, Up-skilling, and new skilling of the participant. He also launched the website of the STI Hub stihubladakh.org.
The training of the trainers' program from 6th to 10th September 2021 intends to train the participants in advanced data analytics techniques in life sciences. The course will help participants handle, analyze, and interpret massive real-life datasets in life science. The expert lectures and practical sessions employ programming approaches on real datasets in Python & R, AI/ML for predictive modeling, and case studies.
The twenty-five researchers, scientists, and academicians participating in the training program from twelve institutions – DRDO-DIHAR, University of Ladakh, SNM Medical College Ladakh, University of Kashmir, Central University of Jammu, NITTTR, UIDAI, HNB Garhwal University, NIELIT, etc. The eminent speakers are engaged from six different institutions – IIITD, CSIR-IGIB, SKUAST, PGIMER, University of California, and UPES Dehradun.
Speaking on occasion, Director CSIR-IMTECH, Sanjeev Khosla, welcomed the guests. He mentioned that STI Hub is an exemplary collaborative project by CSIR-IMTECH, Chandigarh, along with PGIMER, Chandigarh, NIELIT Jammu, and NIELIT, Leh. He further said that it is a collaboration wherein three organizations have come together to promote Innovation, Skill Development, Digital Healthcare with tele-diagnostics, creation of knowledgebase, and awareness in Agriculture, Horticulture, and Animal Husbandry. With this, it has become the first such STI Hub in Ladakh, UT.
Director, NIELIT Jammu, DS Oberoi encouraged the participants to put forth their queries to the speakers for maximum learning during the training program.
Scientist and Controlling Officer NIELIT, Leh, Phuntsog Toldhan briefed all five days' scheduled session plans. He said that the training aims to help researchers and trainers impart their respective trainings more efficiently and effectively
Scientist at CSIR-IMTECH and Project Leader STI Hub, Chander Shekhar spoke about the infrastructure and facilities available at Hub. He said the STI Hub shall significantly boost entrepreneurship in IoT-based devices, edutech, agritech, etc. The Hub aims to actively promote ideas, engage mentors, alumni, fund providers, experts, consultants, and industry to build an empowering ecosystem through various programs and activities. Also, the STI Hub shall promote digital health and scientific knowledge among people in rural areas in agriculture, horticulture, and animal husbandry.
In the end Secretary IT insisted on providing the information about the project to sectorial officers of Administration of Union Territory of Ladakh also.
Chief Scientist CSIR-IGIB, Dr. Ramachandran; Professor University of petroleum & Energy Studies, Sunil Gupta; Asst. Professor Dept. of Haematology, Dr. Nipun Verma; Asst. Professor Dept. of Telemedicine PGIMER Chandigarh, Dr. Amit Aggarwal; Scientist SKUAST KASHMIR, Dr. Razeef Mohammad; Scientist SKAUST KASHMIR, Dr.Sayed Sheraz Mehdi;Scientist NIELIT Srinagar, Ajaz Ahmed Kumar were the speakers during the training.