IT dept. Ladakh organizes workshop on DigiLocker and Umang App in Leh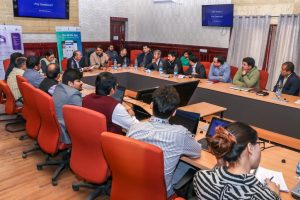 Leh, June 19: The IT Department, UT Ladakh organized a workshop on DigiLocker and Umang App in collaboration with National e-Governance Division (NeGD) at DC Conference Hall, Leh. The workshop was aimed at educating functionaries of the UT about the flagship digital services of India- DigiLocker and Unified Mobile Application for New-age Governance (UMANG) and the integration of the digital services in UT Ladakh.
Digilocker and Umang apps are key initiatives of the Ministry of Electronics& IT (MeitY) under 'Digital India' which aims at 'Digital Empowerment' of citizens by providing access to authentic digital documents to citizens' digital document wallets. This would align Citizen-Centric Service Delivery with the philosophy of 'Minimum Government and Maximum Governance.'
In a detailed presentation, the NeGD officials briefed the forum about the objectives and benefits of DigiLocker and UMANG for the citizens and departments. The issued documents in DigiLocker system such as documents for Identity (Aadhar, Driving License, etc) Academic, Professional, Citizen Services, Financial and Health shall be deemed to be legally recognized documents at par with the original documents. Departments will also benefit, with reduced administrative overhead by minimizing the use of paper and curtailing the verification process; secure document gateway and real time verification, etc. Similarly, Umang, which is also known as Unified Mobile Application is an all-in-one app. This app was launched by the Indian government to encourage more people to adopt digital payment transactions in the country. The Umang app is a unified app that can be used to access a variety of pan-India e-government services, including income tax filing, Aadhar and provident fund queries, gas cylinder booking, and Passport Seva.
Commissioner/Secretary, Information and Technology, Ladakh, Saugat Biswas stated that the digital services will eliminate the scope of error and corruption in the delivery of public services. He also discussed in detail various aspects of digital services, their streamlining and onboarding of specific services on the UMANG and Digilocker platforms. He urged all participants to take full advantage of the workshop and extended his gratitude to the NeGD officials for conducting the workshop.
All the sessions throughout the Workshop were open to interaction in which officers of various departments deliberated upon respective challenges faced by them and discovered solutions for the same through NeGD experts' contributions.
The workshop was attended by Anil Agarwal – Addl. Director NeGD; Sarwesh Kumar – Consultant NeGD; Sh Akshay Chauhan – Consultant NeGD; Sh Prakash Pandey – Consultant NeGD; Directors/HoDs, Sectoral Officers, Police Officers, Registrar & Director Academics/Controllers of Exam of Ladakh University, Principal of Polytechnic & Heads of ITIs of UT Ladakh and the IT, Ladakh team.