Inter-school tournament of Zone Sankoo concludes.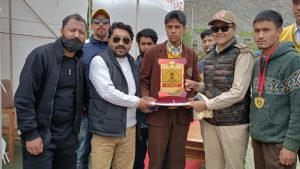 Kargil, May 26, 2023: The closing ceremony of the inter-school tournament of Zone Sankoo was held on Thursday which was attended by Councilor Tai Suru, Syed Abass Razvi.
The Councilor was the chief guest and SHO Sankoo was the guest of honour in the inter-school tournament. The tournament was participated by five Higher Secondary Schools, 11 High Schools and 30 Middle Schools.
The chief guest stressed to avoid drug addiction and youth should spend their leisure time in sports. Razvi distributed medals and certificates to winners, runner-up teams and position holders.