Industries Department Ladakh organises Workshop on PMFME scheme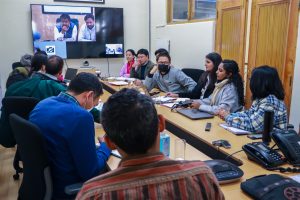 Leh, April 20: The Industries and Commerce Department, UT Ladakh in collaboration with the National Programme Management Unit (NPMU), Ministry of Food Processing Industries (MoFPI), organised a one-day workshop to bring clarity to the implementation of the Pradhan Mantri Formalisation of Micro Food Processing Enterprises (PMFME) scheme in the Union Territory.
Launched on June 29, 2020, the PMFME is a centrally sponsored scheme that aims to enhance the competitiveness of individual micro-enterprises in the unorganized sector, promote formalization of the sector, and support individual enterprises/ Farmer Producer Organisations/ Self Help Groups, and Cooperatives.
Entrepreneurship Development Manager, NPMU, Belmati Jonko gave a detailed presentation to the participants on the various components of the scheme. She talked about the One District One Product approach, support for new and existing units for capital investment for both individuals and groups, components of support for common infrastructure, and Marketing and Branding.
The participants were also given a presentation on seed capital assistance in convergence with the PMFME scheme. Sharing his experience, one of the participants, Iftikhar Naseem said that the orientation was important and helpful. As participants, they were also able to put forth their suggestions for better implementation of the scheme in UT Ladakh, he added.
The workshop was followed by a question-and-answer session with the resource persons from NPMU.
Later the team from MoFPI had a detailed meeting with the Secretary, Industries & Commerce, Saugat Biswas. A detailed field visit programme was chalked out with the team for both Kargil and Leh districts.
The workshop was attended by Deputy Secretary, Industries and Commerce; Convener, UTBLC; General Manager, DIC; ACD, Leh and Kargil; LDM, Leh and Kargil; Tech Professional, NPMU; State Lead Project Manager, PMFME; IPO, DIC Leh; BI Leh; NRLM Coordinators, Leh, and Kargil; SPMU, PMFME; Master Trainers/District Resource Persons, Leh and Kargil, and Industry Stakeholders/ Entrepreneurs/ applicants under various Food Processing Schemes.