Indian Airforce team conducts awareness camp at GDC Kargil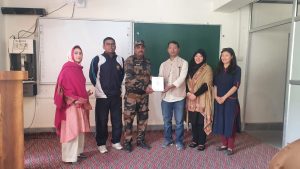 KARGIL, MAY 26, 2022: With an aim to motivate the youth and spread awareness about job service avenues in the Indian Airforce, a team from IAF held an interactive session with the students and faculty members of GDC Kargil.
Incharge principal GDC Kargil, Dr Javed presented the welcome note. Sergeant, Rangaswamy AR and Corporal Amit Das resource persons from IAF and Mohd Kazim, Superintendent ITI Kargil (Programme Coordinator) spoke on this occasion regarding the numerous job avenues in Air Force.
Rangaswamy spoke on the subject in length and deliberated upon the testing and examination procedure to get selected in the various positions in IAF.
The audience was assured that seeing the enthusiasm among the youth in Kargil a separate exam center would be set up in Kargil.
On the occasion, information booklets of IAF were distributed among students. The proceedings of the event were conducted by Taira Bano, Assistant Professor of the college.