Improve expenditure on development works: Advisor Ladakh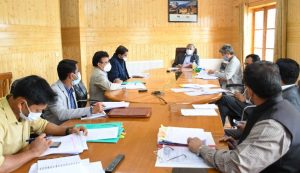 Leh, July 23: Advisor Ladakh, Umang Narula chaired the first meeting to review the quarterly progress report of both capital & revenue expenditure for Ladakh, at the UT Secretariat.
During the meeting various issues such as booked expenditure, reason for the shortfall as compared to expected expenditure under the Demand for Grants, action initiated to expedite the booking of expenditure, targets fixed for next quarter and status of approved works under SDP/State Plan/ District Plan were discussed.
Advisor Ladakh stated that UT Ladakh had spent only about 8% of the budget in the first quarter and added that last year's total expenditure was roughly 40% of the total budget. Terming expenditure monitoring an important issue, Advisor Narula directed the Secretaries to closely monitor the performance of their departments every month.
He extorted the Secretaries to ensure that after completing requisite formalities like AA, technical sanction etc, it may be ensured that tendering is completed and works allotted by the next month.
He directed the concerned officials to ensure submission of bills by each quarter to maintain the stipulated pace of expenditure. He further stated that in this financial year no bill will be entertained by the PAOs after 15th March, 2022.
The meeting was attended by all the Secretaries, Administrative Secretaries of UT Ladakh, Deputy Commissioner, Leh and Deputy Commissioner, Kargil.