IIT experts interact with students at GDC Kargil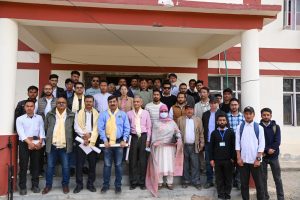 KARGIL, MAY 10, 2022: Delegates from the Indian Institute of Technology (IIT) today interacted with commerce and entrepreneurship students of GDC Kargil, and students of Industrial Training Institute Kargil here at GDC Kargil.
The students discussed various business and entrepreneurship ideas with the experts from IIT Delhi, IIT Kanpur and IIT Mumbai who are on tour to Ladakh to boost entrepreneurship in Ladakh.
The experts appraised the students about different business ideas from problem identification, development of an idea, business establishment, business branding, and ideas to make the business functional.
On the occasion, Superintendent ITI, Kargil Kazim Ali, Principal GDC Kargil Ameena Qari and teaching faculties of the college also attended the session and interacted with the experts.