Horticulture experts inspect Yellow-tail moth infestation in Nubra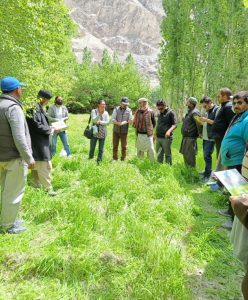 Leh, May 10: In wake of the recent outbreak of leaf defoliator (yellow-tail moth) infestation in the Nubra sub-division, a team of experts headed by the District Horticulture Officer, Leh, including Entomologist, SKUAST, Leh; Horticulture Development Officer, Nubra and field staff of Horticulture Department, Leh visited the infected villages.
Village representatives of Tyakshi and Pachathang villages accompanied the expert team.
The team visited Bogdang, Turtuk and Tyakshi village of Nubra from where report has been received regarding the appearance of this pest on fruit crops. It was informed that the infestation of leaf defoliator (yellow-tail moth) is seen in apricot trees and some forest trees like willow etc. in sporadic form only.
The team observed that the pests are in their initial stages of appearance due to a congenial environment and can be managed by mobilizing and convincing the farmers to adopt several integrated pest management (IPM) methods. The IPM methods include removing the webs in which the pest larvae reside by clipping with the help of loppers and destroying it by dumping them into pits and covering them with soil.
Further, it was informed that the trees having large dead, injured twigs and branches needs to be discarded, otherwise it becomes a shelter for insect larvae. All such branches need to be removed and destroyed by deep burial or burning. Also, orchard sanitation needs to be carried-out by cleaning the orchard floor.
The training/awareness-cum-demonstration program ended with good interaction between the farmers and experts.