Horticulture Dept organises Kisan Mela-cum-exhibition at Saspol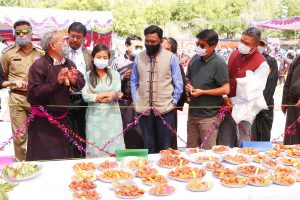 Leh, Aug 30: The Department of Horticulture, Leh, organised a Kisan Mela-cum-Exhibition 2021 at Model Orchard-cum-Nursery at Saspol village under the Azadi ka Amrit Mahotsav celebrations to commemorate 75 years of India's Independence. Deputy Commissioner (DC)/ CEO, LAHDC, Leh, Shrikant Suse, was the chief guest for the event.
DC Leh Shrikant Suse highlighted the vital role played by Kisan Melas and exhibitions in bridging the gap between the farmers and different research institutions. He shared about the district administration's plans to conduct several such melas and exhibitions in various parts of the district and exposure tours to learn the best practices from places outside the UT and incentivise the farmers to motivate them further. He highlighted the role of public representatives in the successful implementation of innovative projects related to agriculture/ horticulture at the ground level, citing the drip irrigation project at Alchi as an example.
Earlier, Chief Horticulture Department, Leh, Tsewang Phunchok, shared that the event aimed to apprise the farmers of the latest technologies to boost the horticulture sector. He also highlighted the subsidies given to the farmers for the purchase of farming equipment via direct benefit transfers (DBT). He added that farmers' participation was restricted owing to the ongoing Covid-19 pandemic.
Different products of farmers, including various varieties of apricots and apples both fresh and dried, flowers, other fruits like watermelon, walnut, strawberry, raspberry, plums and peaches and varieties of vegetables produced under controlled environment at SKUAST-K, Leh and different farming and agricultural machinery and tools, were displayed during the Kisan Mela-cum-Exhibition.
The winners were given prizes and trophies in different categories of fruits and flowers. The dealers of farm equipment and tools were also felicitated during the event. Participants were given incentives for participating in the event. A technical session with the scientists from different institutes followed by a question-and-answer session and a cultural programme was held during the event.
Councillor Khaltsi; Councillor Saspol; Sub-divisional Magistrate, Likir; Chairperson, Block Development Councillor (BDC), Saspol; Chief Horticulture Officer, Leh; Associate Director, SKUAST-K, Leh; Head, Regional Research Station, ICAR- Central Arid Zone Research Institute (ICAR-CAZRI), Leh; Senior Scientist, DIHAR; District Horticulture Development Officer, other officer and officials of the concerned department, sarpanches, panchs, nambardars and farmers/villagers and students of Government School Saspol participated in the event.