Hon'ble Lt Governor Brig (Dr) BD Mishra (Retd) attends inaugural session of 5-day long International Conference on Himalayan Environment in Changing Climatic Scenario.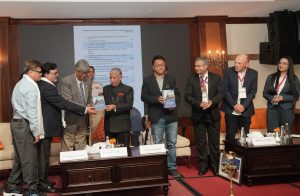 Leh, Sept 19, 2023: The Hon'ble Lieutenant Governor of Ladakh, Brigadier (Dr) BD Mishra (Retd) attended the inaugural session of the five-day-long International Conference on Himalayan Environment in Changing Climatic Scenario (HECCS) 2023 organised by the Mountain Research Institute of University of Ladakh as the chief guest.
The HLG termed the theme of the conference as important as climate change is not only affecting the Ladakh region but also the entire trans-Himalayan and Himalayan belt. He stated that experts from different parts of India and foreign countries have assembled for the conference to share their thoughts and expert suggestions for the betterment of Ladakh and the trans-Himalayan regions. He also stated that the citizens of India worship the Himalayas for environmental purposes and not only for their religious significance.
The HLG highlighted the importance of respecting and preserving the Himalayas to maintain the environment and ecological balance. Stating that environmental protection is ingrained in our blood, the HLG stated that everyone must maintain this trait for the betterment of posterity. He asked everyone to share their learnings from the conference with their children family members and relatives so that everyone comes forward for the protection of the fragile environment/ ecology. The HLG stated that this conference will leave a lasting impression on the protection of Ladakh's fragile environment.
The HLG released the abstract volume of the Conference on HECCS 2023 compiled by Dr Bhupendra S Yadav along with the book, The Palgrave Handbook of Socio-ecological Resilience in the Face of Climate Change: Contexts from a Developing Country by Sunil Nautiyal, Anil Kumar Gupta, Mrinalini Goswami and YD Imran Khan.
Dr Sonam Wangmo from the University of Ladakh gave the vote of thanks.
Deputy Chairman, LAHDC Leh, Shri Tsering Angchuk; Dr Anil Gupta from National Institute of Disaster Management; Dr OP Mishra from Ministry of Earth Sciences, Government of India; Prof (Dr) Talat Ahmad from Wadia Institute of Himalayan Geology, Dehradun; Dr Prantik Mandal from CSIR-National Geophysical Research Institute, Hyderabad; Prof (Dr) Marcus Nuesser from Heidelberg University, Germany; faculty/students from University of Ladakh; delegates from different universities/colleges and officials from UT Ladakh were present in the inaugural session of the international conference.